For more information on May's activities, visit her online content on LinkedIn, on Instagram, Twitter and on her In The Grape Facebook page. (see icons)
Discovering the Alpine Wines of Alto Adige
RFrom native varieties to styles that overdeliver, here's why wine professionals say you need to know these Northern Italian reds and whites
Posted: July 29, 2019
This advertising content was produced in collaboration with SevenFifty and our sponsor, Südtirol Wein Vini Alto Adige; it does not necessarily reflect the views of SevenFifty Daily's editorial team. For more information, please refer to our ethics guidelines.
Tucked into the foothills of the Alps, the picturesque region of Alto Adige in northern Italy is a study in contrasts. With cooling Alpine influences that meet Mediterranean warmth and resplendent sunshine, and wine-growing elevations that extend from 600 to almost 3,300 feet, this humble region has a little bit of everything—and it uses those natural resources to make a wide array of red and white wines.
Not only does Alto Adige produce some of the finest versions of international varieties like Pinot Grigio, Sauvignon Blanc, and Pinot Noir, but it is also home to intriguing native varieties like Schiava and Lagrein. Despite accounting for a small proportion of Italy's wine, the more than 200 wineries in Alto Adige are committed to the production of premium-quality wines.
"Alto Adige accounts for less than 1 percent of the wine made in Italy," says May Matta-Aliah, DipWSET, CWE, a wine consultant who is based in New York City and is the U.S. brand ambassador for the Wines of Alto Adige consortium. "There was an understanding [that developed in Alto Adige] in the 1980s that quality is key. [Winemakers are] incentivized by quality and ripeness."
Move Over, Prosecco: Italy's Push for Premium Sparkling Wine
Regions like Franciacorta and Trento are trying to make metodo classico bubbly happen
Posted: Jun 26, 2018 1:00pm ET
By Emma Balter
When it comes to Italian sparkling wine, people typically think first of Prosecco. Hailing from a swath of northeastern Italy, Prosecco producers have successfully marketed sparkling wine to the masses, in very high volumes, at a fraction of the price of Champagne. Bubbles for everyone!
So what happens to the areas of Italy that have set out to make premium sparkling wine? Is there room for them in the market?
I've gotten to know two regions that are trying to disrupt the monopoly of cheap Italian bubbly: Franciacorta and Trento. While Prosecco is made by Charmat, or tank method, these two wines are made with the méthode traditionelle—or metodo classico—that is the mandated practice in Champagne. It's labor-intensive, more expensive and lends more complexity to the wine. Both Italian regions also rely on the same grapes as their French counterpart: mostly Chardonnay and Pinot Noir, but with some Pinot Blanc (only a minor planting in Champagne).
But the first thing you'll be told by Franciacorta producers and advocates is that they are not trying to be "the next Champagne." In this small area, which hugs the southern end of Lake Iseo in the Lombardy region, production is low. "It's very conceivable that [consumers] have not heard about it," says May Matta-Aliah, New York education ambassador for the Franciacorta consortium. "That's what the Italians drink, and so most of it stays in Italy."
Although exports are on the rise, Franciacorta will never compete with Champagne or Prosecco in terms of volume. But this allows the region to be quality-conscious, as well as mindful of the environment. Many wineries in the area farm organically, a few biodynamically; the consortium's goal is to convert its entire membership—98 percent of the region's producers—to organic viticulture in the next five years. Previously, in 2012, the region established its own carbon-footprint measuring system, Ita.Ca., and many wineries strive to be carbon-neutral.
What first drew me in to these wines, though, is their style. While Champagne has many fans, its sky-high acidity can be a little prohibitive to drinkers who aren't "acid hounds." Matta-Aliah likes to say that Franciacorta has the texture of Champagne and the freshness of Prosecco. The region has a significantly warmer climate than Champagne: This means riper fruit flavors and lower malic acid. As bubbly producers worldwide turn to lower sweetness levels, Franciacorta can actually provide a more balanced zero dosage than some cooler-climate regions. Some of my highlights from recent Franciacorta tastings include Barone Pizzini, Ca' del Bosco and Bellavista.
Trento, on the other hand, is in the Dolomites mountain range, where vineyards can lie at high elevations and experience big diurnal shifts. Because of the cooler climate, Trento bubbly tends to be racier and less rich than Franciacorta.
With the exception of local giants like Ferrari, production is very small here too. Among the leaders in quality is Maso Martis, a family-run estate that farms organically and makes only 5,000 cases a year (including some still wine). They rely a little more heavily on Pinot Noir than other Trento producers, and also have small plantings of Pinot Meunier.
Alessandra Caroni, export manager for Maso Martis, notes that people often buy Prosecco because it's cheap and Champagne for a big occasion. Matta-Aliah is keen to avoid having Franciacorta pigeon-holed as a celebration-only wine-rather, she sees it as a food wine, one to be enjoyed now and not necessarily held for a special moment.
Wines from Trento and Franciacorta do offer good value, as the quality of the wines is high, but are the prices attractive enough? A bottle will typically go for $30 to $40, with some top cuvées exceeding $100.
To break into this niche of the U.S. market, Franciacorta and Trento are currently focusing on awareness and education. Hosting tastings and seminars targeted to the trade here is relatively new for the appellations, representatives noted. Such a strategy can trickle down and spread their brands' visibility among sparkling-wine drinkers.
Matta-Aliah is optimistic about their future in the U.S. market: "The quality is there, the familiarity with grape varieties is there, the connection to the Champagne method is there, the emotional connection to Italian lifestyle is there." Producers just need to get the wines in front of consumers and hope they sip.
You can follow Emma Balter on Twitter, at twitter.com/emmabalter, and Instagram, at instagram.com/emmacbalter
Slow Motion: Moving at its own pace, Armagnac steps into the spotlight
Story by Paul Clarke
may/June 2018 imbibemagazine.com
"In 2009, if I walked into a random bar, I'd be lucky if I saw a single bottle of Armagnac, and now you see two or three," says May Matta-Aliah, the New York–based official Armagnac educa- tor for the Bureau National Interprofessionnel de l'Armagnac (BNIA). Matta-Aliah says that unlike just a few years ago, when she found her- self cold-calling at bars and restaurants to pitch Armagnac, she increasingly has bartenders and beverage managers reaching out to her. She sees a couple of factors playing into its bump in popu- larity (the U.S. is one of the top export markets for the spirit, both in value and volume, behind Russia and the U.K.). "There's the whole interest in craft spirits now, and Armagnac is very much a craft spirit," she says. "And a lot of wine import- ers who may have had a single Armagnac now have a full-fledged portfolio. There are also a lot more brands coming into the market, so there's a domino effect that's happening."
To Make Its Case, Armagnac Has to Teach the Teachers
By Jason Wilson Dec. 18, 2017
On a darkening, cold afternoon, before a crackling fireplace inside Fine & Rare's candlelit dining room, several servers and bartenders gathered recently for a training seminar on the lesser-known French brandy, Armagnac. Fine & Rare, a year-old restaurant and bar near Grand Central Terminal, had added more than a dozen Armagnacs to its menu, and the employees needed to learn how to sell them.
May Matta-Aliah — an official Armagnac educator for the Bureau National Interprofessionel de l'Armagnac — poured eight brandies for each and began to explain Armagnac's appeal.
"Education" has become the prevalent sales buzzword for bars that pour high-end liquors, with the idea that enthusiastic customers will buy and drink spirits they've never heard of, if only someone can teach them why. But in order to tell the 700-year-old story of Armagnac to their customers, the educators themselves often need to be educated.
"First of all, most importantly, Armagnac is from France," Ms. Matta-Aliah said. She focused on the sparsely populated region of Gascony, in the southwest. "Ducks and geese — for foie gras — outnumber humans," she said. "This is not a wealthy area, so put away your images of grand chateaus." Ms. Matta-Aliah explained the distillation process, the region's three geographic subzones, which grapes are used to make the base wine and how Armagnac differs from whiskey or other brown spirits — namely, that the raw ingredient is grapes, not grain, agave or molasses.
The Perfect Bubbly and Food Pairings For New Year's Eve
RACHEL ASKINASI DECEMBER 21, 2017
This year, if you've been tasked with hosting a NYE party for friends and family, or simply want to show off your new and improved bar cart, chances are that you're already busy planning. Nothing says New Year's Eve like a bottle of bubbly and some good ol' finger food. But if you're not sure what to pair with all of those affordable bottles of Prosecco you picked up, it's easy to get stuck in a party planning rut. Thankfully, the experts at Franciacorta are lending their expertise so that you can make your guests' palates sing. May Matta-Aliah, Franciacorta Educational Ambassador, offers up three bubbles and grub pairings that are guaranteed to wow.
Brut and Calamari Try: Ca' del Bosco, Cuvée Presitge Brut, NV Described as, "a delicious Franciacorta from one of the jewel wineries of the region, Ca' del Bosco," this blend of Chardonnay, Pinot Nero, and Pinot Bianco pairs beautifully with calamari fritti and a sweet roasted pepper dip. The acidity and richness counter each other perfectly, Matta-Aliah explains. The bubbly ages for 28 months in cellars, where it develops its texture and rich flavor.
Rosé and Charcuterie Try: Berlucchi, '61 Rosé, NV With its soft pink hue, this wine draws you in before you even have a sip. A blend of Pinot Noir and Chardonnay, it offers notes of red berry and herbs, which makes this the perfect partner in taste for a charcuterie board, she says. It also serves well with a seafood salad (think shrimp or lobster) on cucumber rounds.
Satèn and Comfort Food Try: Mosnel, Satèn Millesimato 2012 Satèn is a style of sparkling wine unique to Franciacorta. This wine is bottled at a lower pressure than the others and develops a satin-like texture of gentle bubbles that are always elegant and never aggressive, says Matta-Aliah. It has matured for an extended period of time in the cellars, gaining complexity and depth of flavor. Pair this with arancini di riso (Sicilian rice balls) stuffed with mozzarella cheese or taleggio for more of a flavor punch–marinara sauce optional.
MAY ON WINES AND CLIMATE CHANGE
THE CONNECTED TABLE LIVE:
A Trio of Pure Pinto Perfection
(THE SOMM JOURNAL) OCTOBER/NOVEMBER 2017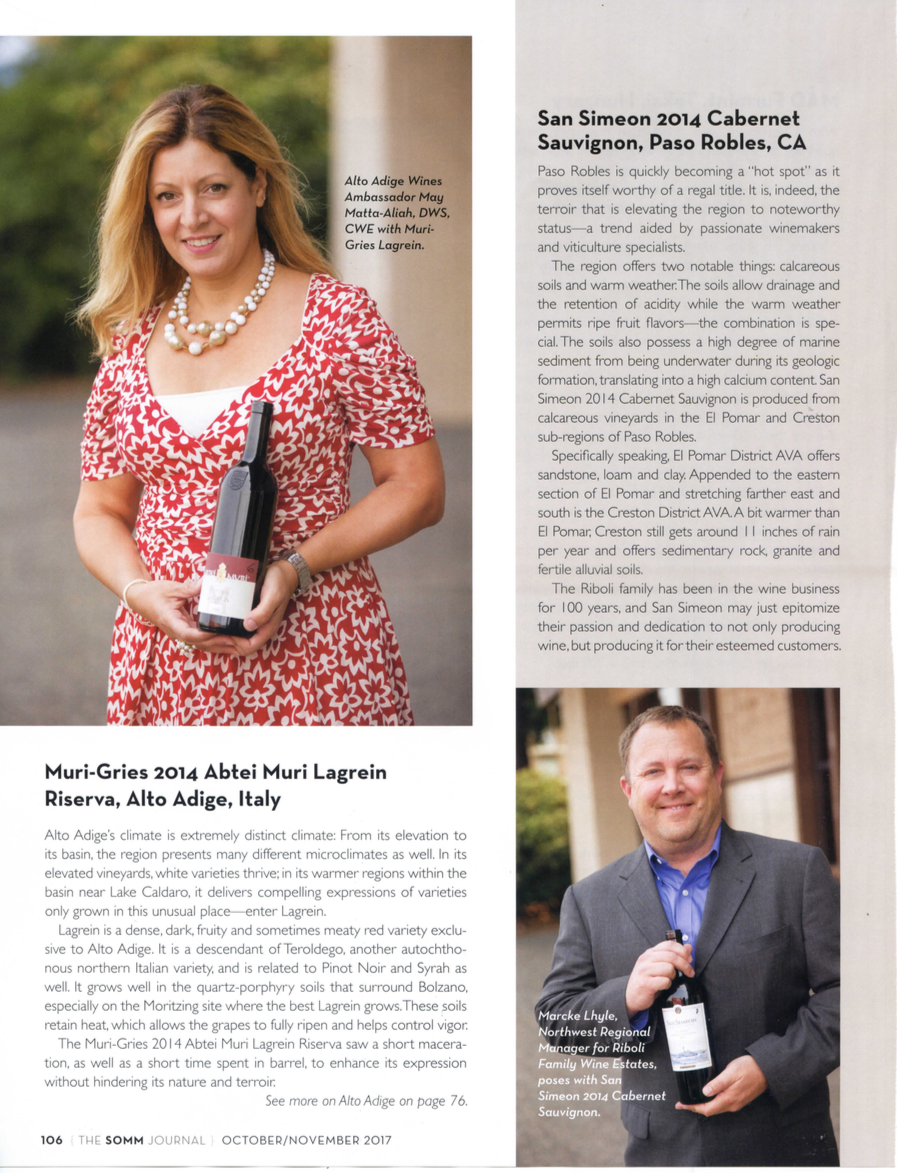 Exhibiting Unique Terroir
(The SOMM Journal ) October/November 2017
(The SOMM Journal) August/September 2017
Armagnac: Charme Americain